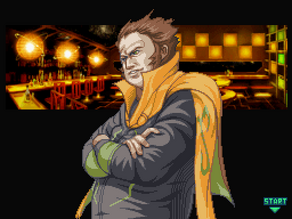 Zakhar Agarkov

Database Summary

Originally from the planet Bagut, he is now a lieutenant, junior grade, in the Central Elgavan Forces. As Commander Vladykin's subordinate, Zakhar infiltrated the Novgorod Pirates as a spy. He is Tatiana's beloved older brother.

Age

31

Gender

♂

Recruitment

Chapter 2 - choose the direct route when attacking the pirate base. Then in Chapter 3 visit Zakhar at the Hospital on Zvenigorod. Zakhar joins you in Yuri the Man chapter 3.

Skills

Space Warrior Lv2
Ad blocker interference detected!
Wikia is a free-to-use site that makes money from advertising. We have a modified experience for viewers using ad blockers

Wikia is not accessible if you've made further modifications. Remove the custom ad blocker rule(s) and the page will load as expected.