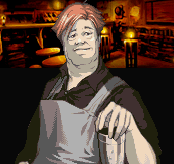 Radimir

Database Summary

The proprietor of a tavern on Hapsal. Radimir is a glib talker, and can come across as being rather superficial.

Age

49

Gender

♂

Recruitment

Chapter 2 - Talk to Rufina in Lutsk Tavern twice, then head to Hapsal Tavern and talk to Radimir.

Skills

None
Radimir is a bartender on
Hapsal
.He is not overly hardworking and is always asking for money to improve his tavern,
Ad blocker interference detected!
Wikia is a free-to-use site that makes money from advertising. We have a modified experience for viewers using ad blockers

Wikia is not accessible if you've made further modifications. Remove the custom ad blocker rule(s) and the page will load as expected.