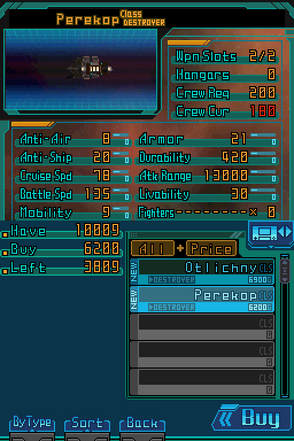 In-game description
Edit
A civilian transport ship remodeled into a destroyer. It's hull durability and combat capabilities aren't quite up to the demands of battle.
Ship Stats.
Edit
Class: Destroyer
Anti-Air: 8
Anti-Ship: 20
Cruise Speed: 78
Battle Speed: 135
Mobility: 9
Armor: 21
Durability: 420
Attack Range: 13000
Crew Required: 200
Crew Currently: 180
Customizable Weapons: 2/2: M,S
Module Space: 33 (3 bridge, 3 engine, 0 catapult)
Fighter Capacity: No
Special: -
Perekop is the name of a small village in Ukraine.
Aquisition: 
Edit
One of the first ships you acquire. The blueprint for Perekop can be bought at the planet Toropets.