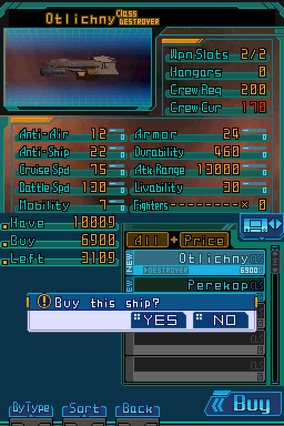 Overview:
Edit
An upgraded version of the Perekop destroyer. It has improved durability, and is equipped with the current government's weapons, too.
In-game description.
Edit
Ship Stats.
Edit
Class: Destroyer
Anti-Air: 12
Anti-Ship: 22
Cruise Speed: 75
Battle Speed: 130
Mobility: 7
Armor: 24
Durability: 460
Attack Range: 13000
Crew Required: 200
Crew Currently: 170
Customizable Weapons: 2/2:
Module Space: (- bridge, - engine, - catapult)
Fighter Capacity: No
Special: -
One of the first ship design available, can be acquired on Toropets. One of the weakest vessels in-game, it is recommended to upgrade out of this vessel after the first few regions.